People tend to think that more space will make their home easier to live in and that less square footage means sacrificing style. While linen closets—well closets in general—extra bedrooms and a larger floor plan are great, most times, you have to work with what you've got. Something to help? Space-saving furniture and anything with storage that works double duty.
That's where Fundiz.Shop comes in. Whether you're in a studio apartment in the heart of NYC or just an awkwardly built single-family home (and you know, all the things in between), there are ways you can optimize the space to maximize every square inch. You shouldn't have to choose between a home that looks good and a home that actually works, so let's get into some product ideas to aid even the smallest of dwellings.
There are some marquee pieces you expect to find in a living room: sofa, coffee table, chair(s), side tables, media cabinet, decor. Consider this a pretty standard "formula."  But in a small space, people rationalize omitting one or two of these pieces or they skip out on everything that would personalize the living area. Beyond adding more cabinets or dragging your dresser to your living room, there are double-duty pieces at the ready to serve you in more ways than one.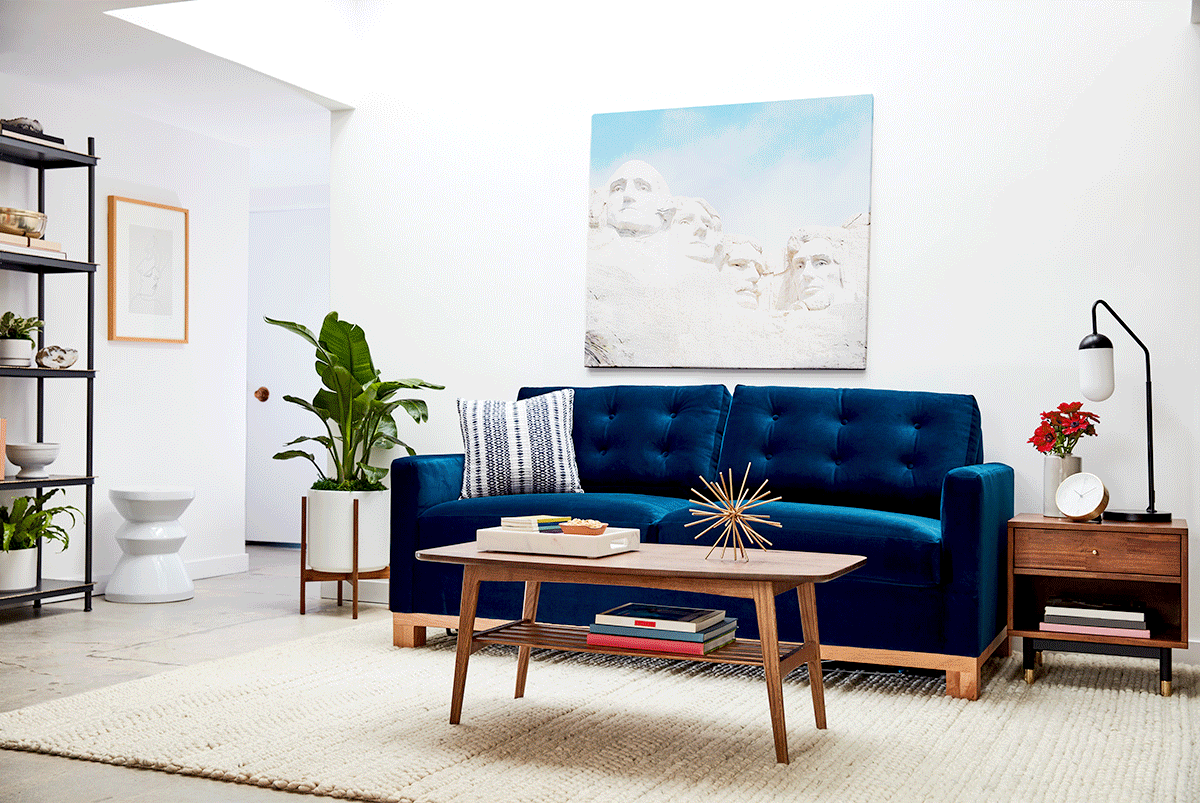 SHOP THE LOOK: Nairobi Collection | Chima | Shisoko | Lotus
Sleeper Sofas are the epitome of getting more bang for your buck, you're literally getting a bed AND a sofa! Depending on your living arrangements (i.e. a studio apartment) you now have a place to relax and lounge, but also sleep. If you have separate sleeping quarters, don't count out the sleeper sofa just yet. Where you may not have a dedicated guestroom, a sleeper allows you to confidently (and comfortably) host guests…no air mattress needed.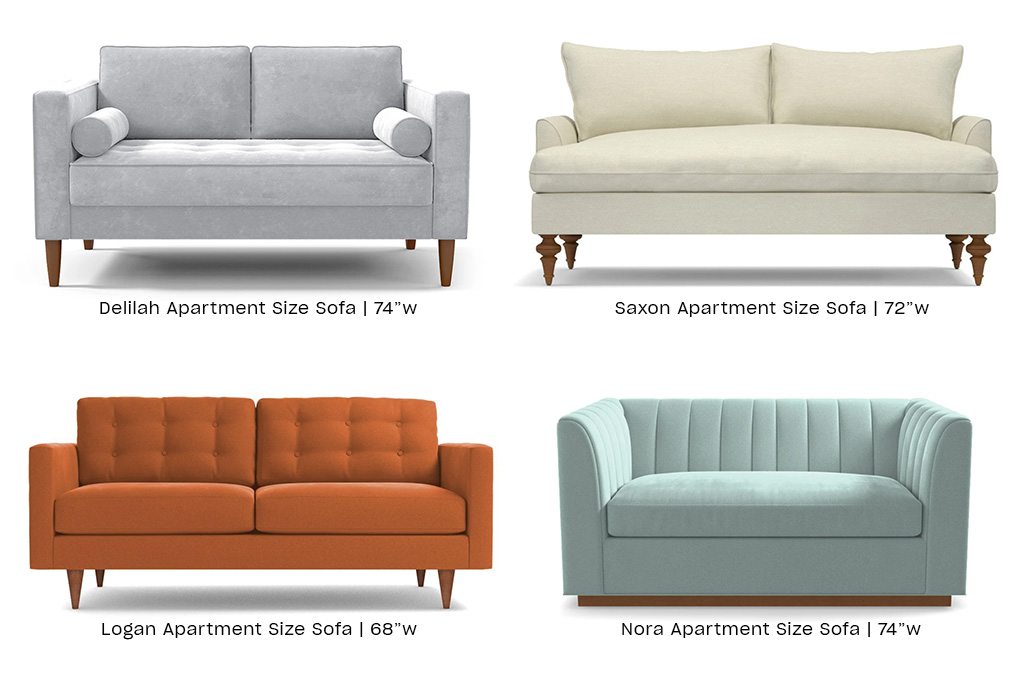 You shop the scale of the home, so an apartment-sized living room deserves an apartment-size sofa, while still being able to get a myriad of styles, fabrics and colors. At a glance, you can't even tell that it's "apartment-sized," however, the smaller scale makes it perfect for squeezing into pint-sized living quarters to save space without disrupting the flow and function of the room. (Level up that apartment-sized sofa into a compact sleeper and you've got the best of both worlds).
Whether your design aesthetic is mid-century modern like the Samson Apartment Size Sofa or more on the classic traditional side like the Saxon Apartment Size Sofa, you'll find a customizable apartment-sized option for you.
Tables With Storage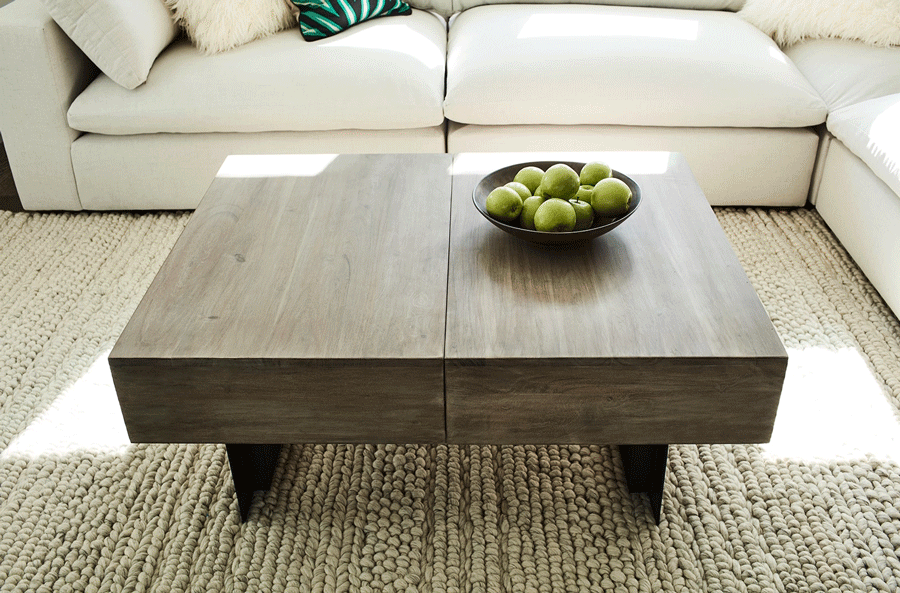 And we're not just talking shelves, though that's a great place to start: With nothing to hide, tables with shelves like the Pike Coffee Table and Sawyer Side Table are great excuses to show off, while still containing, your favourite collectables.
When you have limited vertical space in your home, always try to squeeze out more in smaller accent pieces if you can. This is an efficient way to bring in furniture that does more than just look good. Tables with drawers like the Allister Coffee Table, Bannack Coffee Table, and Chloe Side Table provide a surface area as well as storage for remotes, magazines and whatever else your heart desires (rogue mail you don't want to deal with just yet, for instance?). Or take it next level with legit storage tables.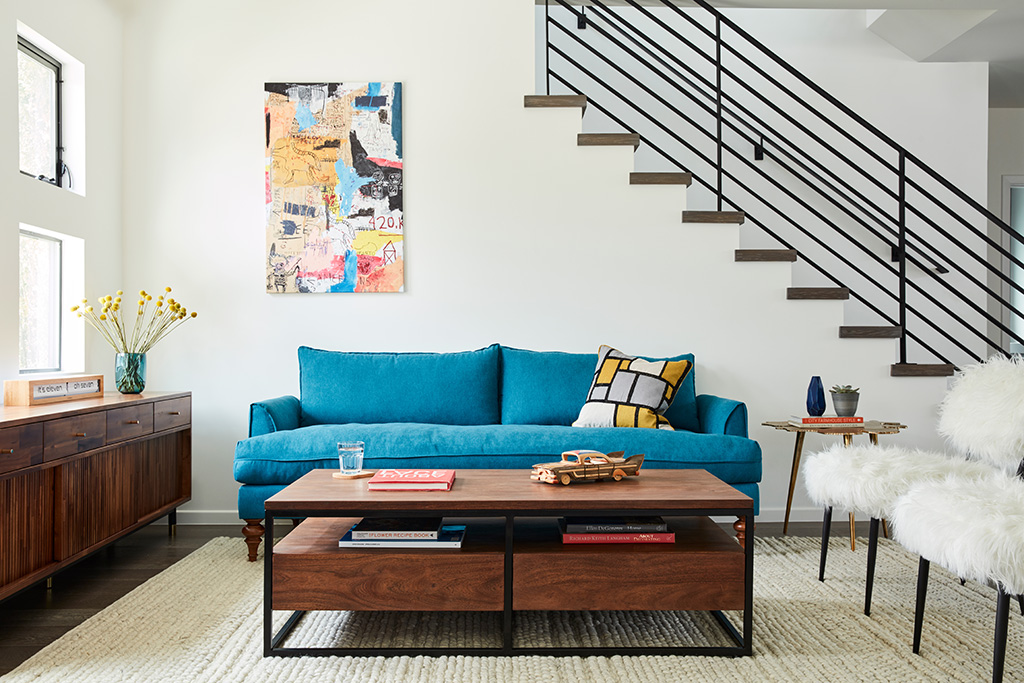 The Solara Storage Coffee Table (which also comes in a side table), Powell Lift Top Storage Coffee Table, and Douglas Lift Top Coffee Table all also provide concealed storage in innovative ways, making each a bit of a showpiece. These larger options are great for putting away extra blankets or just hiding the kids' or pets' toys.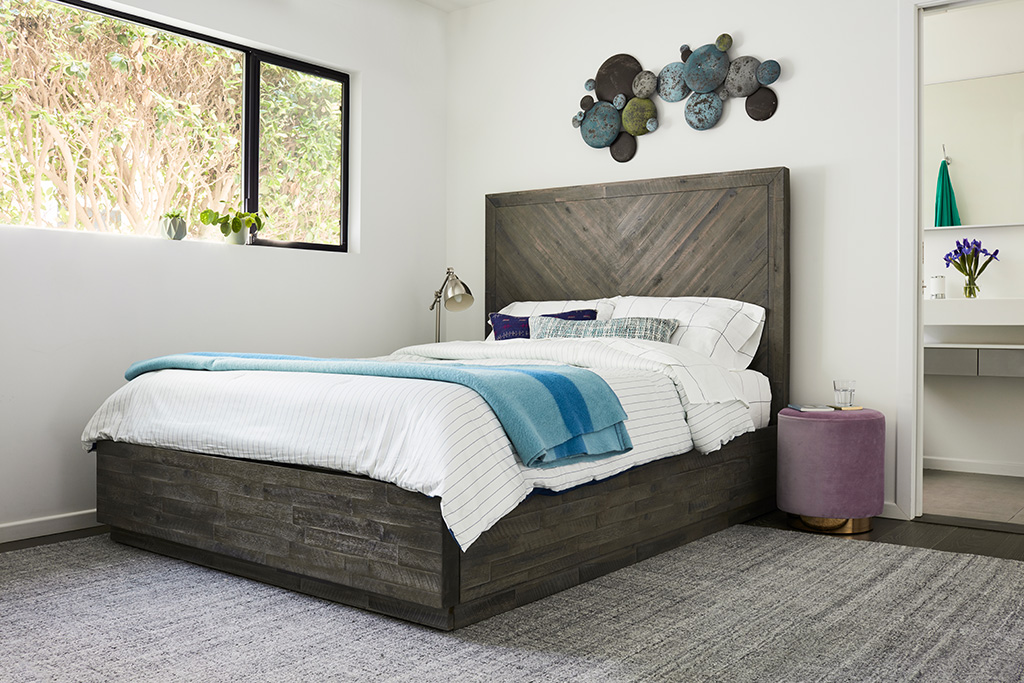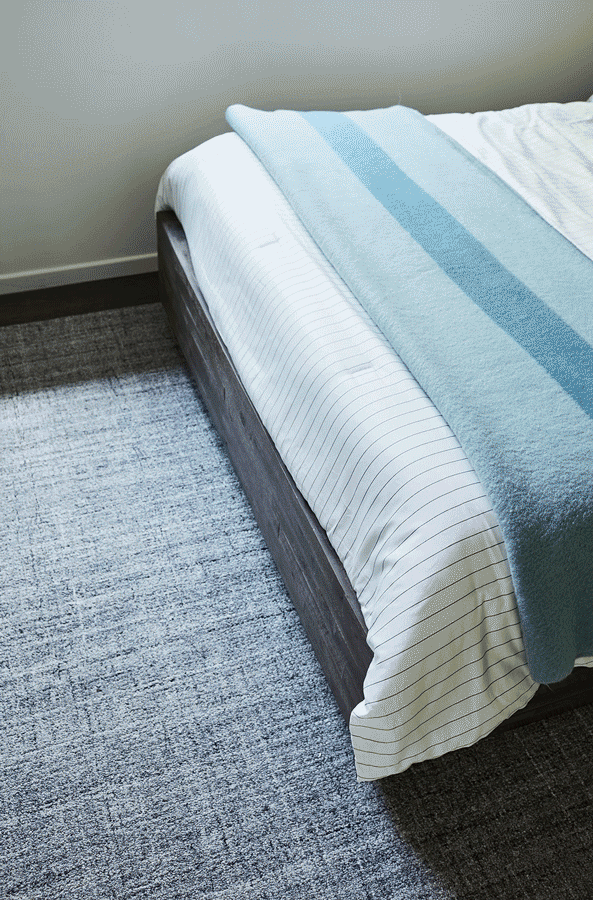 Moving out of the living room for a moment, we don't want to overlook what's possible in the bedroom of a smaller apartment or home. Sometimes, all you have room for is a bed squished up against the corner and a small table…so where exactly are you supposed to stash away your clothes or your bedding…or anything? Your bedroom is a place of relaxation and rest, so when you don't have the right storage solutions it can become a place of stress.
Enter the storage bed.
While most rarely have as many drawers as a traditional 6-drawer dresser, you'll typically find anywhere from two to four compartments. They can range from visible and a bit more decorative with hardware (like the drawers on the Redondo Pier Storage Platform Bed) to far more discrete (you wouldn't even know there was storage in the front of the Hollyridge Storage Bed or Allister Platform Storage Bed if it weren't for their names).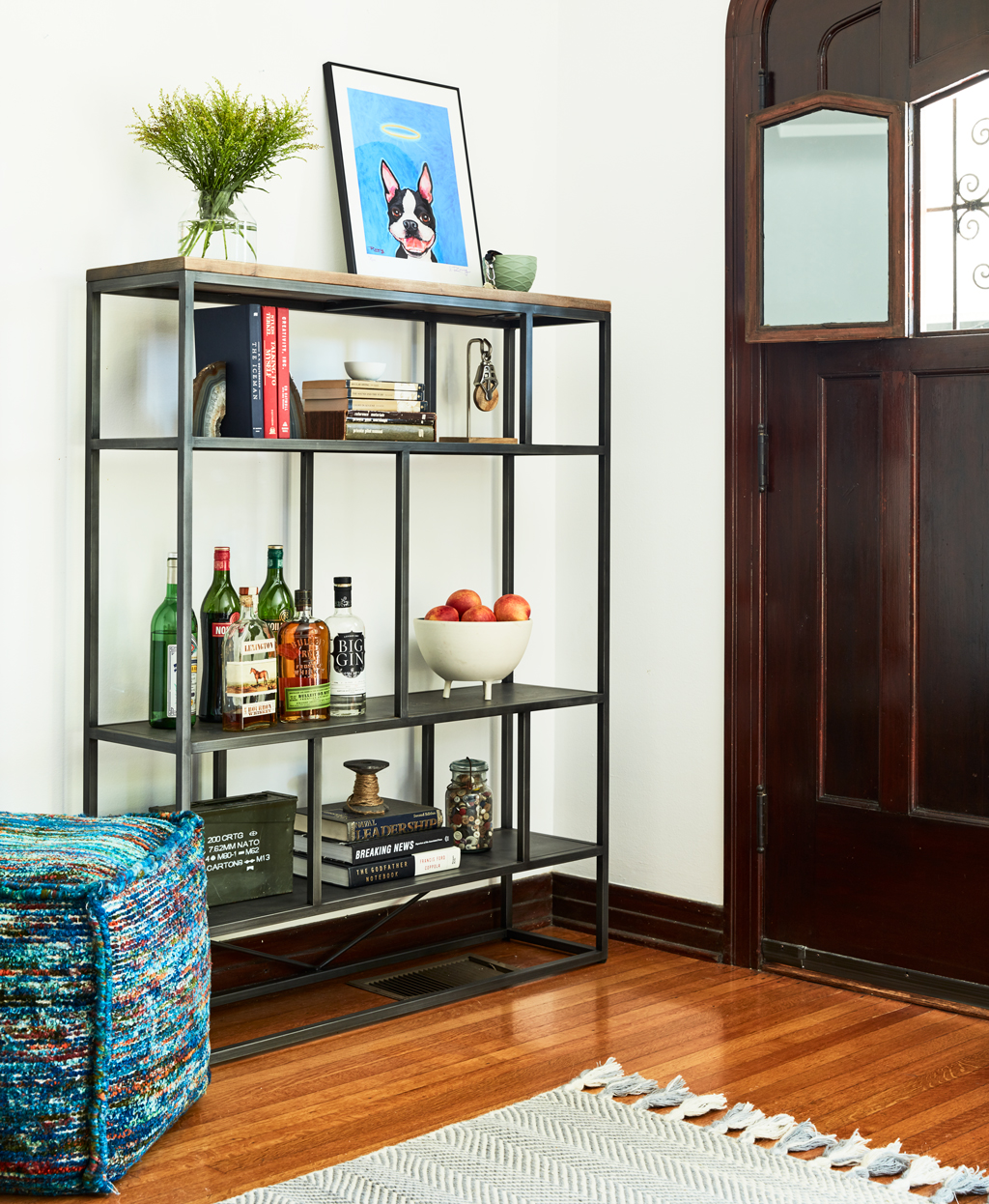 And finally, while it may seem obvious, when you're short on space, what you're really short on is floor space. Use your walls! Don't overlook vertical storage even in a smaller room. Maybe you just need a resting place for your beloved books (something like the Loima Round Wall Shelf space-saving design is a great addition to any room with a small footprint, with 10 shelves).
Or maybe a bulky dresser or case good will make a room feel too small and cluttered. A slender 5-shelf piece like the Loima Bookcase can be used for decorative purposes, sure, but it can also double as open storage for linens, clothing, or even shoes in a bedroom! Get creative. Just because a piece is listed under "living room," for instance, doesn't mean that's where it needs to go. We like to think those are loose suggestions anyway. ;)
Contrary to popular belief, limited space doesn't mean limited options. You can browse Apt2B's space-saving options to ensure that your home is furnished to its highest potential.
Thank you to Albie K. Buabeng for contributing this article. You can read more from Albie on her blog, Albie Knows, follow her on Instagram for all things design and pre-order her newest book on Amazon, "Curate The Home You're In: Effortlessly Create Your Everyday Dreamscape."